Submitted by admin on Wed, 04/10/2013 - 12:07
As the coolest and most advanced car on TV, KITT was a favorite for every science loving car nut.  So it's only fitting that Spaghetti Engineering/DIGI-TAILS President Michael Muhlbaier build his very own.  
 
Before all the fantastic lighting and dash controls can happen, we have to get down to the basic mechanics of the car.  So what's first, how about BBC with a Turbo 400 tucked in between the unibody rails of a 1986 Trans Am.
The unibody was wire wheeled and tied together with modified frame connectors.  Then epoxy painted and rig liner coated. This setup will keep things quiet, durable, and make under body cleaning easy.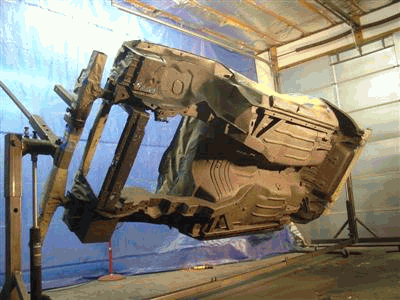 To get the look of long and low with this Trans-Am, we could use nothing else but air suspension. 
As the car starts to take shape we will highlight this major addition:
First the E3 control system from RIDETECH which controls ride height sensors on each corner along with a 5 gallon tank and dual compressors.
All four corners will be bagged.  In the rear will be a CoolRide setup, The front will have modified 2005 Mustang Shockwaves.
To compliment the air ride the suspension and chassis will have its fix of SPOHN parts like:
Adjustable Torque Arm
Adjustable Panhard bars
Rear Control Arms
Modified Frame connectors.
Tubular Front Lower Control Arms
Tubular K-member
Tubular front brace  
- STAY TUNED FOR MORE! -
---